About Us

Welcome to Gilberts, where we offer you the latest looks for your rooms from all the leading manufacturers of quality furnishings, carpets and upholstery.


Carpets - with free measuring and fitting


We've been in Old Town, Swindon since 1866, so we know what style and timeless good looks are all about.


Superb range of fabrics and upholstery.


So when it comes to the sometimes difficult decision of selecting the right furniture, furnishings, carpets and fabrics for your home we are always here to help.


Unmatched service


Our extensive range of quality carpets and floor coverings come with a free measuring and fitting service that ensures that Gilberts reputation for quality and service is unrivalled.

From top to bottom we have the carpets to suit all tastes and budgets.


Proud History


Gilberts is particularly proud to have served generations of customers for over 150 years.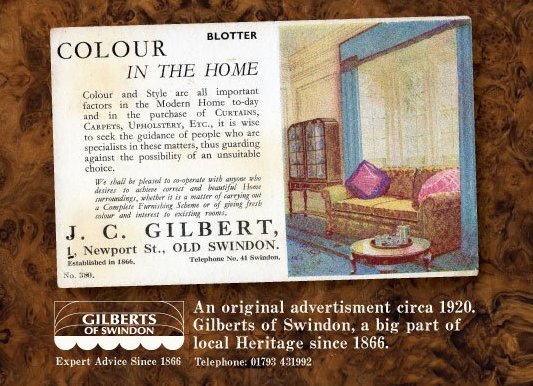 Situated in Old Town, Swindon - we are open six days a week, with plenty of parking nearby - so pay us a visit or call: 01793 431992